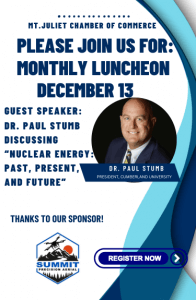 Please Join Us for Our Monthly Luncheon
December 13th at 11:15 a.m. - Rutland Place
Please join us for the last luncheon of the month. Our guest speaker is Dr. Paul Stumb, President of Cumberland University. He is discussing: Nuclear Energy, Past, Present, and Future. You won't want to miss it. Space is limited, register now.
You can register online here.
Believe. Belong.
When you invest in the Mt. Juliet Chamber, you invest in your success, as well as the success of Mt. Juliet as a whole. We are the business advocacy organization for our community, helping more than 600 member businesses grow and prosper. Because the only way forward on issues that matter is together. Believe in Mount Juliet. Belong to the Chamber.
Thank You to Our Large Investors
Spend your money
where your heart is.
Every strong community has a strong chamber of commerce supporting it. The Mt. Juliet Chamber exists to connect, advocate for, promote, and support our members. Through a wide variety of programs and initiatives, the Mt. Juliet Chamber works diligently to support the growth and prosperity of local businesses because we believe in a strong future for Mt. Juliet.
Our members partner with us for all sorts of reasons, from customer development in connecting with our wide network of member businesses, for advocacy on important business issues, for help in promoting products or services, or for much-needed educational support. Whatever gap our members are hoping to fill, we are committed to staying true to our vision of building a stronger business community. That is our purpose and we live this every day!